CBD Turmeric & Ginger Tea Health Benefits
Zero percent THC
Soothes the digestive system
5 mg water-soluble CBD
18 Bleach Free Tea Bags / Box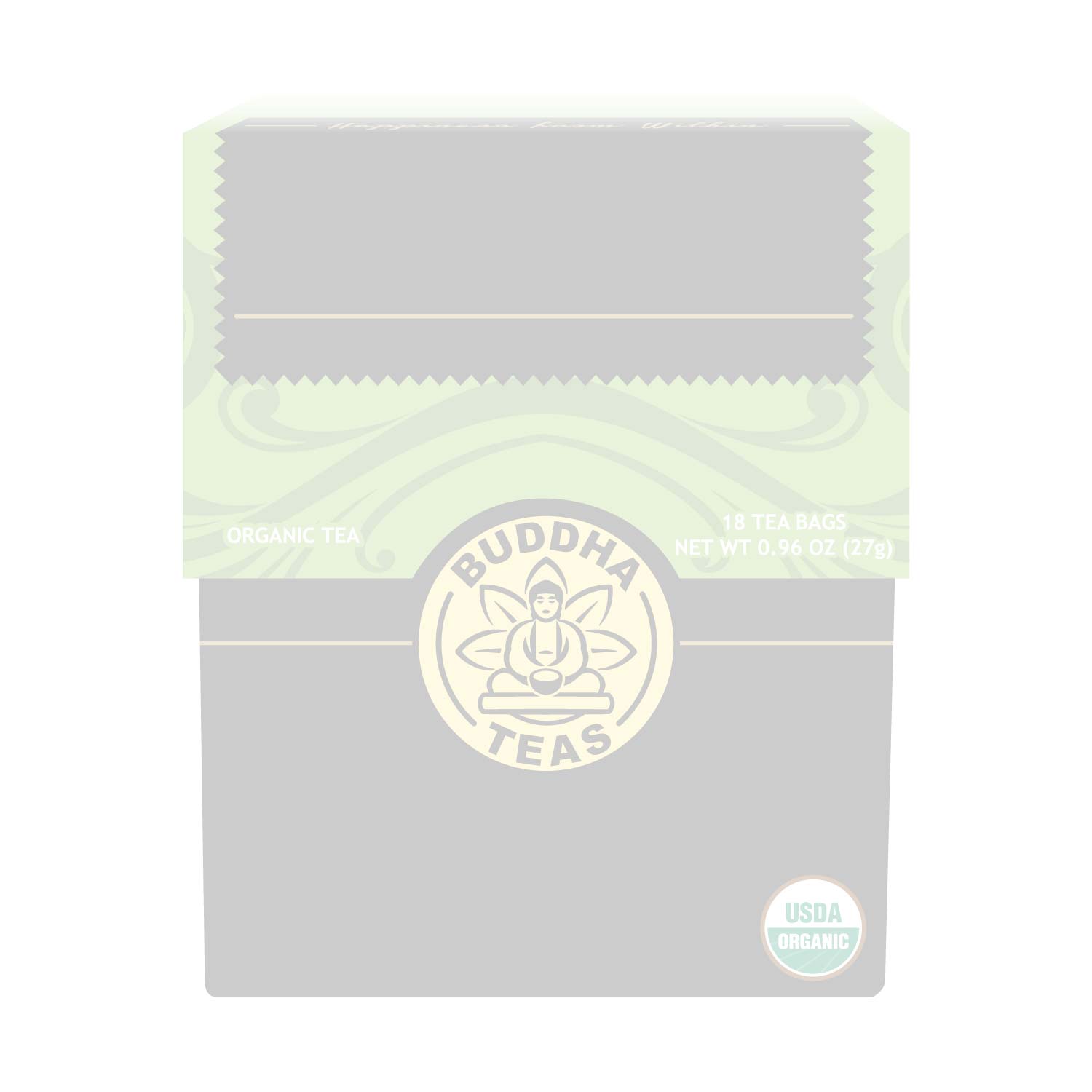 Brewing Suggestions
Recommended temperature: 205°
Cover and steep to taste.
Remove tea bag and enjoy!
Free Shipping on orders over $50.
*On orders placed in the United States. Learn More
Satisfaction Guaranteed
100% Money Back and Satisfaction Guarantee. NO questions asked!
In the Know
Turmeric is widely known as a powerful anti-inflammatory and antioxidant, whose earthy notes settle the mind and calm the soul. When combined with spicy ginger, and assisted by black pepper, the healing potential magnifies. Add a kind dose of our water-soluble CBD, and the results area healing and satisfying cup of pure amazement.
Water-Soluble CBD vs. Oil Based CBD
When choosing a tea to drink that includes CBD, we have taken chemistry into consideration. Naturally, you don't want the exquisite experience of enjoying a cup of Buddha Teas turned into a science project, but here's the deal: not all CBD-infused teas are the same. CBD oil-based teas can't extract in hot water, so we found another solution by using nanosized particles of water-soluble CBD. Our innovative process ensures that the CBD in our tea bags ends up in your cup of tea. With our water-soluble, bioavailable CBD you can feel confident that the CBD extracts into the hot tea, which allows your body full delivery, providing it with the most benefits possible. Finally, because cannabinoids need fat to be absorbed in the small intestine, make sure to enjoy your CBD Buddha Teas with, or directly after, a meal.
What Exactly is Turmeric?
For thousands of years, India has been the largest turmeric producer. Today it is cultivated throughout the world but we still often associate its strong flavor with Indian foods, and its ayurvedic reputation as a powerful healing agent for a myriad of conditions. With its pungent taste and bright yellow color, combined with its notable popularity as a healing agent, turmeric has earned a distinctive, and distinguished place in both the kitchen and the medicine cabinet. Turmeric may very well be the "it" herbal medicine and food product of these modern times, but it's ancient to modern usage in the Hindu culture spans from wedding rituals to clothes dying, to healing salves. Piggybacking on another culture's blessings is normal, and we take it for granted. In some instances, the value is so evident that we cannot afford to preclude it as part of today's herbal therapies. For those interested in learning more about the plethora of uses for turmeric, the information is vast and readily available via the internet.
What Exactly is Ginger?
"Shaped like a horn" is what ginger means in Sanskrit. This ancient spice, first cultivated and used in ancient China and India, was reportedly recorded in the writings of the Chinese philosopher, Confucius. Best known for creating and espousing the Golden Rule, which preaches that one should not do to others what one would not want done to them. Closely related to turmeric as a root, and a powerful healing spice, China, India, and Arabic cultures have included ginger as a staple in their diets and medicinal remedies for countless years. Best known perhaps as an effective aid for stomach ailments, most notably nausea, ginger is a common inclusion in the foods of many Asian cultures and now a world-wide, common ingredient in today's healing remedies.
Health Benefits of CBD Turmeric & Ginger Tea
Frequently paired for consumption, the combination of turmeric, ginger, and pepper in tea is an obvious winner when seeking a warming, stimulating cup of healing energy. Considered close relatives as far as roots go, turmeric and ginger in this instance really do prove that together is better. Topped off with our water-soluble CBD, this potent anti-inflammatory, antioxidant duo becomes a superhero, making our CBD Turmeric Ginger Tea one of our most powerful teas for those seeking easy, delicious ways to attain greater health and vitality. The mildly bitter and peppery taste of turmeric, when combined with slightly spicy yet delightfully sweet ginger, makes an obviously perfect combo.
**As a reminder to all of our loyal customers, our CBD Teas never contain THC.
Why choose Buddha Teas?
Buddha Teas searches the world for the very best herbs, flowers, spices, and teas to incorporate into our blended and single herb wellness products. We NEVER use additives or "natural" flavorings. Instead, we use substantial quantities of key ingredients to ensure our products have optimal efficacy. During our exploration for the best, we found that living in harmony with nature is ideal. We've realized that any time we need nature to provide for us, we must give something back. Sustainably harvesting and keeping waste and pollution at a bare minimum made sense to us. Buddha Teas is 100% chemical free, from our bleach free tea bags to our utilization of soy-based ink for our labels and beautifully colored tea boxes. When you buy Buddha Teas, you're not only enjoying a flavorful, hand-crafted, all-natural tea but you will also feel peace of mind knowing that you are buying your tea from a company that gives back to our magnificent planet.
Bleach-Free Tea Bags
Our tea bags may not be the whitest, but they ARE the safest because Buddha Teas ONLY uses bleach-free teas bags. For us, this is not a preference but a necessity. Tea bags that have been bleached contain harmful chemicals such as dioxin and epichlorohydrin. Dioxin is a highly toxic, chemical compound produced by some chemical processes such as bleaching paper. It falls into the category of a POP (persistent organic pollutant) which, as the name suggests, persists and refuses to breakdown in our bodies and the environment, potentially taking decades to detox. Epichlorohydrin (bleach) is also toxic and listed as a hazardous air pollutant (HAP). It has been classified by the EPA as a human carcinogen.
We believe that our customers should never have to choose between their health and their senses so we proudly offer bleach-free tea bags so that they can taste the purity of natural teas without the cost of harmful chemicals or additives.
Learn About Our "Tea For Trees" Campaign
Our "Tea for Trees" campaign creates a sustainable model that restores one of our most precious resources while offsetting the paper used in our products. We've partnered with The National Forest Foundation's Trees for Us, a program that annually plants millions of trees throughout our national forests. By giving back whenever possible, Buddha Teas strives to honor the earth and its many blessings. Help us plant trees while enjoying an unadulterated tea that's healthy for you and our planet.
By giving back whenever possible, Buddha Teas strives to honor the earth and its many blessings. Help us plant trees while enjoying an unadulterated tea that's healthy for you, and our planet. Read more about it here.