CBD Turmeric & Ginger Tea Health Benefits
Zero percent THC
Soothes the digestive system
5 mg water-soluble CBD
18 Bleach Free Tea Bags / Box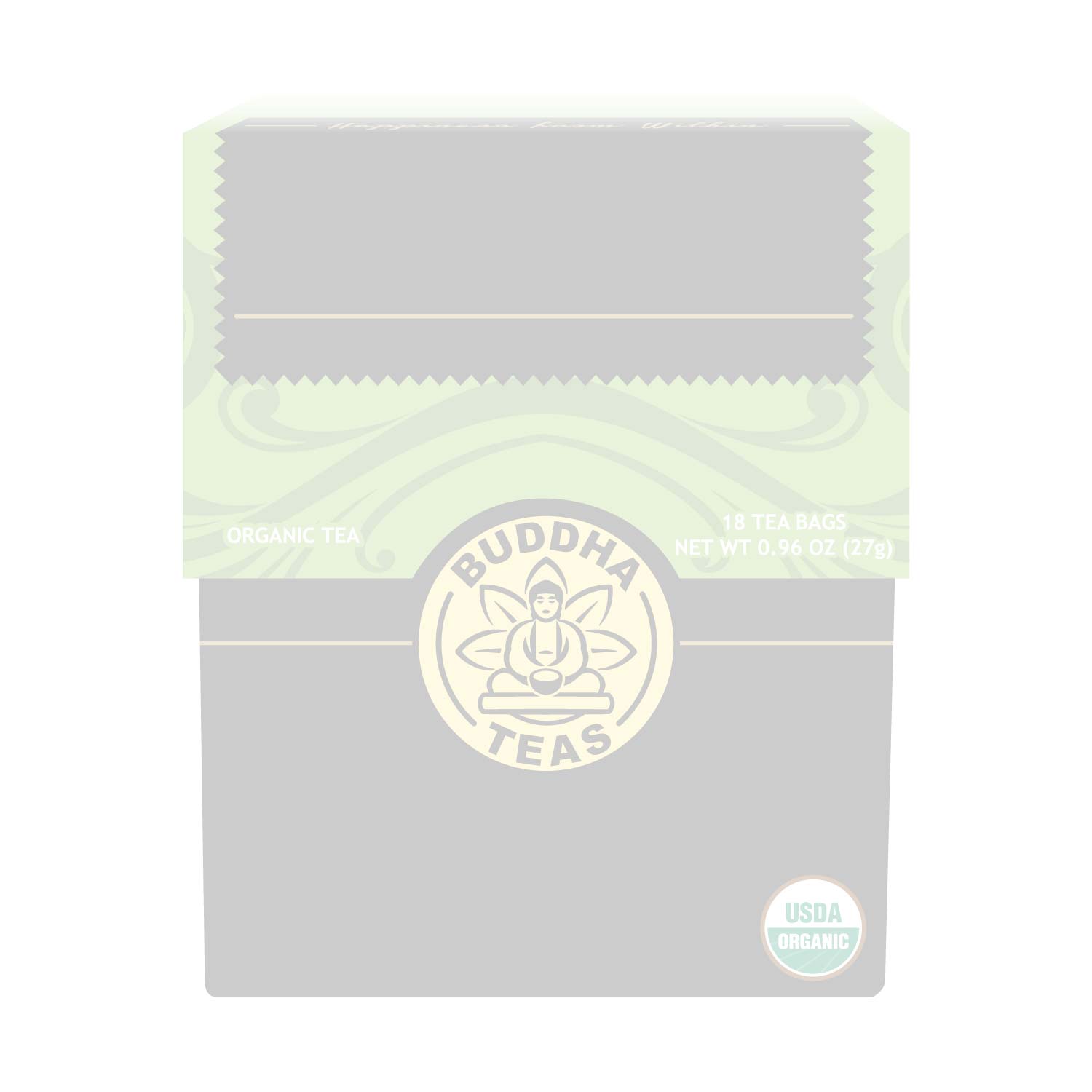 Free Shipping on orders over $50.
*On orders placed in the United States. Learn More
Satisfaction Guaranteed
100% Money Back and Satisfaction Guarantee. NO questions asked!
In the Know
Three minutes doing a web search for what turmeric is good for and you'll discover so many touted benefits you'll wonder why we can't just live on it! It's not exactly the turmeric itself, though; the magic stuff hidden within, curcumin, is what makes this ancient root so exciting as an anti-inflammatory and anti-oxidant. When paired with its BFF, ginger, though, and topped with a kind dose of our water-soluble CBD, this golden cup of warming yummy is simply the bomb.
Water-Soluble vs. Oil Based CBD
When choosing a tea to drink that includes CBD, we have taken chemistry into consideration. Naturally, you don't want the exquisite experience of enjoying a cup of Buddha Teas turned into a science project, but here's the deal: not all CBD-infused teas are the same. The truth is, CBD oil-based teas can't extract in hot water. Crafted using nanosized particles of water-soluble CBD, our innovative process ensures that the CBD we claim to include in our tea bags actually ends up in your tea. With water-soluble, bioavailable CBD, you can feel confident that the CBD extracts into the hot tea, which allows your body full delivery, providing it with the most benefits possible.
What Exactly is Turmeric?
For thousands of years, India has been the largest turmeric producer on the planet. Though today it is cultivated throughout the world, we often associate its strong flavor with Indian foods, and its ayurvedic reputation as a powerful healing agent for a myriad of conditions. With its pungent taste and bright yellow color, combined with its notable popularity as a healing agent, turmeric has earned a distinctive, and distinguished place in both the kitchen and the medicine cabinet. Turmeric may be the "it" food product of our times, but it's ancient to modern usage in the Hindu culture spans from wedding rituals, to clothes dying, to healing salves. Today, piggy-backing on another culture's blessings is normal, and we take it for granted. For those interested in learning more about the plethora of uses for turmeric, the information is vast and readily available via the internet.
What Exactly is Ginger?
Shaped like a horn: this is what ginger means in Sanskrit. This ancient spice, first cultivated and used in ancient China and India, was reportedly recorded in the writings of the Chinese philosopher, Confucius, best known for creating and espousing the Golden Rule, which preaches that one should not do to others what one would not want have done to them. Closely related to turmeric as a root, and a powerful healing spice, China, India, and Arabic cultures have included ginger as a staple in their diets and medicinal remedies for countless years. Best known perhaps as an effective aid for stomach ailments, most notably nausea, ginger is a common inclusion in the foods of many Asian cultures.
Health Benefits of CBD Turmeric & Ginger Tea
Frequently paired for consumption, the combination of turmeric and ginger in tea is an obvious winner when seeking a warming, stimulating cup. Considered close relatives as far as roots go, in this instance together really is better. Topped off with 5 mg of our water-soluble CBD, this potent anti-inflammatory, antioxidant duo becomes a superhero trio, making our CBD Turmeric Ginger Tea one of our most powerful teas for those seeking easy, delicious ways to attain greater health and vitality. The pungent, mildly bitter taste of turmeric, when combined with slightly pungent, delightfully sweet ginger, makes an obviously perfect combo.
Learn about our water soluble CBD.
Why choose Buddha Teas?
What sets us apart from other tea companies? We start with a philosophy of living in harmony with nature, not using it for profit. Buddha Teas uses only fresh, pure organic or sustainably wild harvested ingredients and maintains their natural purity in every tea we sell. We have also created the "Teas for Trees" campaign, planting 5000 trees a year to offset the paper use in our tea bags. Each of our tea bags is bleach-free to eliminate the risk of chemicals, and our boxes are made from 100% recycled material. When you buy Buddha Teas, you'll enjoy the fresh, full flavor of a truly natural tea in every sip.
Learn About Our "Tea For Trees" Campaign
Buddha Teas is always looking for ways we can give back to our world. Our Tea for Trees campaign is designed to restore one of our most important resources and offset the use of paper in our products. We've partnered with the National Forest Foundation's "Trees for US" program to plant thousands of trees every year. Every box you purchase helps us to support this cause. Read more about it here.
Review Title:

Ginger heven

Review by

Seamus

on August 14, 2018
Love this product....soothing and peaceful
Warming the pain away
Review Title:

Great For Many Reasons!

Review by

Evan

on August 13, 2018
This has quickly become my favorite tea for many reasons. First, it is simply delicious. Also, the ginger quickly soothes any of my stomach/digestive ailments. Consistent use of tumeric is very beneficial for my joint health. And the CBD helps alleviate minor aches and pains, similar to a low dose of medication but also mildly relaxes my body and has numerous other health benefits. Whether it's after a strenuous workout that leaves my body aching, after a meal that has upset my stomach, or when I'm winding down before bed, this tea is perfect.
Review Title:

Relaxing

Review by

MIke

on August 7, 2018
Very relaxing tea. Amazing taste! I could sip this all day!
Review Title:

Soothing!

Review by

Melissa

on August 7, 2018
Tastes amazing! What a special blend! I felt soothed and it calmed my stomach immediately!
Review Title:

Tumeric / ginger tea

Review by

Renee

on August 4, 2018
I have RA and I can't go without having tumeric added to my daily regimen- I'm a huge tea drinker and I like knowing this tea is helping my joints and inflammation in my body-
Review Title:

Smooth and Comforting

Review by

Lisa

on August 3, 2018
I am enjoying the Tumeric and Ginger Tea. I drink it in the evenings after dinner as I wind down my day.
Review Title:

Ginger Tumeric CBD

Review by

Charlie

on August 3, 2018
I bought this tea as a soothing blend for my mother who suffers from anxiety and pre-mature cognitive decline. I made a cup at night for myself as well and haven't slept as well in years. It's become a nightly ritual. This tea/CBD is delicious and, as promised, effective in calming the mind and body.
Review Title:

Great for e****psy!

Review by

Mike

on July 30, 2018
My wife has e****psy and hasn't had an "event" since she started drinking this tea.
Review Title:

So calming!

Review by

Lauren

on July 28, 2018
I absolutely love this tea! It completely relaxes and calms me and I sleep like a baby when I have a cup before bed. I highly recommend it and I will be purchasing more!
Review Title:

Help with sleep

Review by

Judith

on July 17, 2018
Love the flavor of this tea and it was very helpful. Very good a a sleep aid. Wish I could find it local!