Organic Sleepy Temple Ingredients
Organic Lavender
Organic Chamomile Flower
Organic Licorice Root
Organic Skullcap
Organic Spearmint
Sleepy Temple Health Benefits
Contains known calming herbs
Contains anti-inflammatory components
Mellow, soothing flavor
18 Bleach Free Tea Bags / Box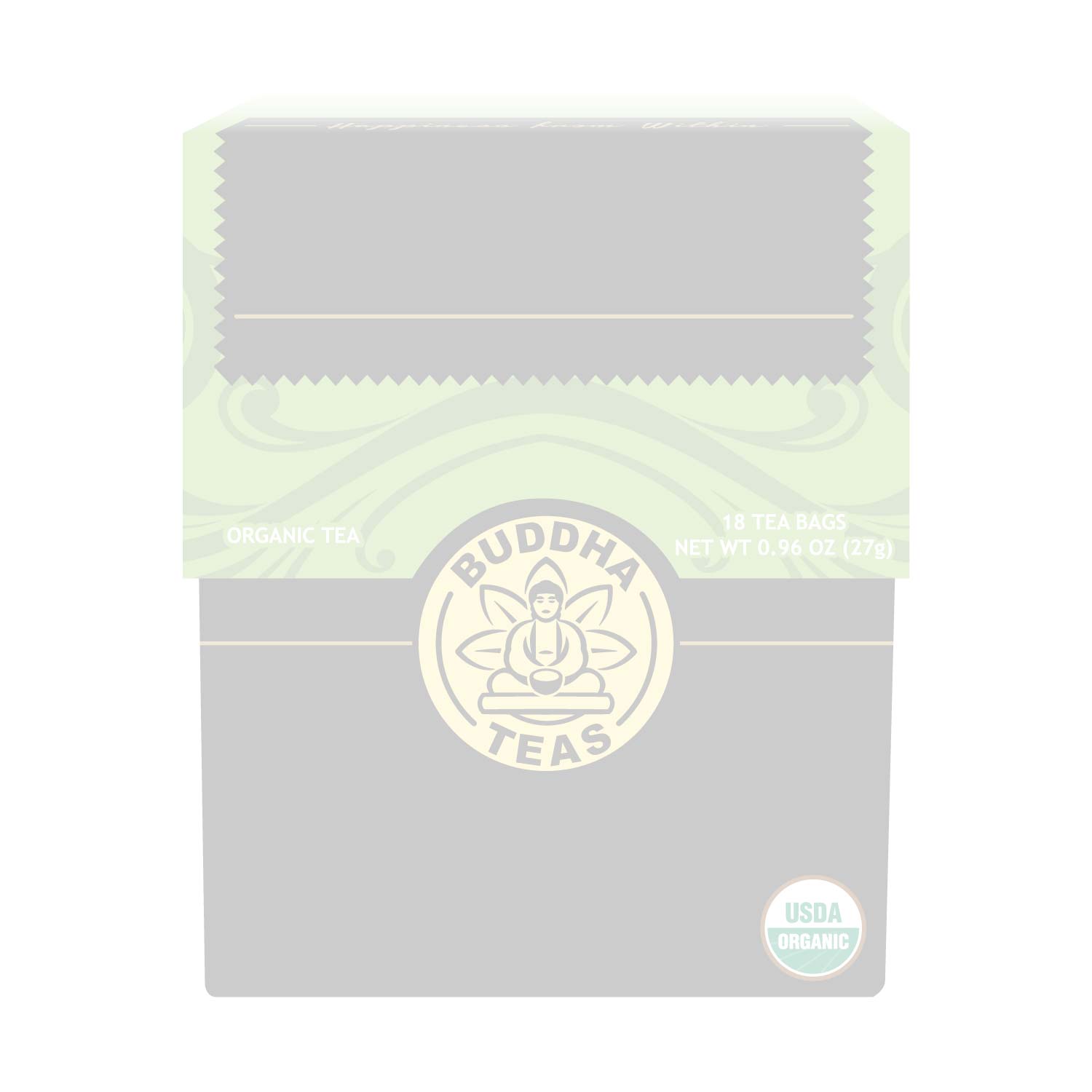 Brewing Suggestions
Recommended temperature: 205°
Cover and steep to taste.
Remove tea bag and enjoy!
Free Shipping on orders over $50.
*On orders placed in the United States. Learn More
Satisfaction Guaranteed
100% Money Back and Satisfaction Guarantee. NO questions asked!
In the Know
If you seek delightful, calming teas to support healthy sleep patterns, our Sleepy Temple Blend offers the perfect mix of intentionally selected herbs meant to prepare you for a restful night. The sleep-inducing focused herbs we've included in each bleach-free teabag will entice you to keep this tea on your "regulars" list for nighttime sipping.
What's Really Going on Here
With such an exquisite blend of herbs expertly brought together to create a seriously pleasing and beneficial cup of tea, it might be of interest to take a deeper look at what each ingredient contributes. As with other Buddha Tea Blends, Sleepy Temple Blend works so amazingly because of the synergistic manner in which the herbs are combined. Here, once again, together really is better.
Lavender Flower Known for its anti-inflammatory qualities, lavender also boasts elements that help diminish anxiety, restlessness, and sleeplessness.
Chamomile Flower Boasting an antioxidant called apigenin, a chemical that binds to certain brain receptors, this herb is best known to induce calm and reduce insomnia.
Licorice Root A known adaptogen, this distinctive herb supports the digestive system, and may help ease muscle cramps, important elements when seeking a good night's rest.
Skullcap By stimulating the release of endorphins, skullcap soothes the nervous system, lowers inflammation, and helps regulate sleep.
Spearmint Leaf In certain South American countries, spearmint is used to treat stress and insomnia. The flavor addition adds a lovely balance to this gorgeous blend.
The Bottom Line
You don't need to brew five different teas to reap the benefits of them all. We've combined them for you in one outstanding, soothing tea. The flavor profile is uniquely ours, and definitely memorable. No single ingredient jumps out and steals the show. It's the ratio's perfection that makes this blend one you'll feel delighted to make part of your nighttime ritual. Make tonight the night you enjoy Sleepy Temple Blend.
Why choose Buddha Teas?
What sets us apart from other tea companies? We start with a philosophy of living in harmony with nature, not using it for profit. Buddha Teas uses only fresh, pure organic or sustainably wild harvested ingredients and maintains their natural purity in every tea we sell. We have also created the "Teas for Trees" campaign, planting 5000 trees a year to offset the paper use in our tea bags. Each of our tea bags is bleach-free to eliminate the risk of chemicals, and our boxes are made from 100% recycled material. When you buy Buddha Teas, you'll enjoy the fresh, full flavor of a truly natural tea in every sip.
Learn About Our "Tea For Trees" Campaign
Our "Tea for Trees" campaign creates a sustainable model that restores one of our most precious resources while offsetting the paper used in our products. We've partnered with The National Forest Foundation's Trees for Us, a program that annually plants millions of trees throughout our national forests.
By giving back whenever possible, Buddha Teas strives to honor the earth and its many blessings. Help us plant trees while enjoying an unadulterated tea that's healthy for you, and our planet. Read more about it here.
Review Title:

Amazing

Review by

Candice

on July 3, 2020
This one became my complete favorite blend after just one box. I used to be a diehard Chamomile Tea drinker until I gave Sleepy Temple a try. I give neighbors and friends samples to spread calm, peace, and sleep!
Review Title:

Perfect nightcap

Review by

Michele

on June 3, 2020
What a wonderful way to end the day. I can feel my body relaxing with each sip. Used to drink this tea as a treat. Now, it's a daily staple.
Review Title:

TEA licious

Review by

Petunia

on May 28, 2020
Best tea ever!
Review Title:

Very Relaxing

Review by

Jeanie

on May 21, 2020
This is MY favorite tea in order to help me relax and then get to sleep. Great flavor, and smooth!!
Review Title:

Sleepy Temple Blend

Review by

Cathy

on May 4, 2020
I have had 2 cups of this tea before bedtime. I did not notice that I slept better. The flavor and the aroma are just ok. I have had several types of teas that have a better soothing aroma and more flavor.
Review Title:

very helpful for sleeping

Review by

Maire

on April 28, 2020
Tastes wonderful, and relaxes me for sleep.
Review Title:

Excellent quality

Review by

Chrissy c

on April 27, 2020
I have loved every single tea blend I've purchased. Sleepy Temple is perfect for winding down before bed. My teenage daughter agrees; I had to resort to putting the tea boxes on the top of the cabinets because she's going through them like crazy.
Review Title:

Delicious and relaxing

Review by

Samantha

on April 25, 2020
I love opening this box of tea and giving it a good smell before I make a cup. The scent alone is so relaxing and the tea is a great way to relax before bed.
Review Title:

Best Tea for me and my friends

Review by

Linda

on February 19, 2020
Just what we needed. Relaxing for those of us who find it hard to relax. The tea is wonderful, the service is wonderful, and delivery was very quick.
Review Title:

Perfect for winding down!

Review by

Rachel

on January 31, 2020
I have tried lots of sleep promoting teas in the past but none compare to the power of Sleepy Temple. I can sleep soundly through the night after even just half a cup! Not to mention the taste; it has such a mellow, sweet finish. I received this box as a gift and will definitely be purchasing more soon.