Lemongrass Green Tea Health Benefits
Refreshing
Inspiring
Vitamin & mineral rich
18 Bleach Free Tea Bags / Box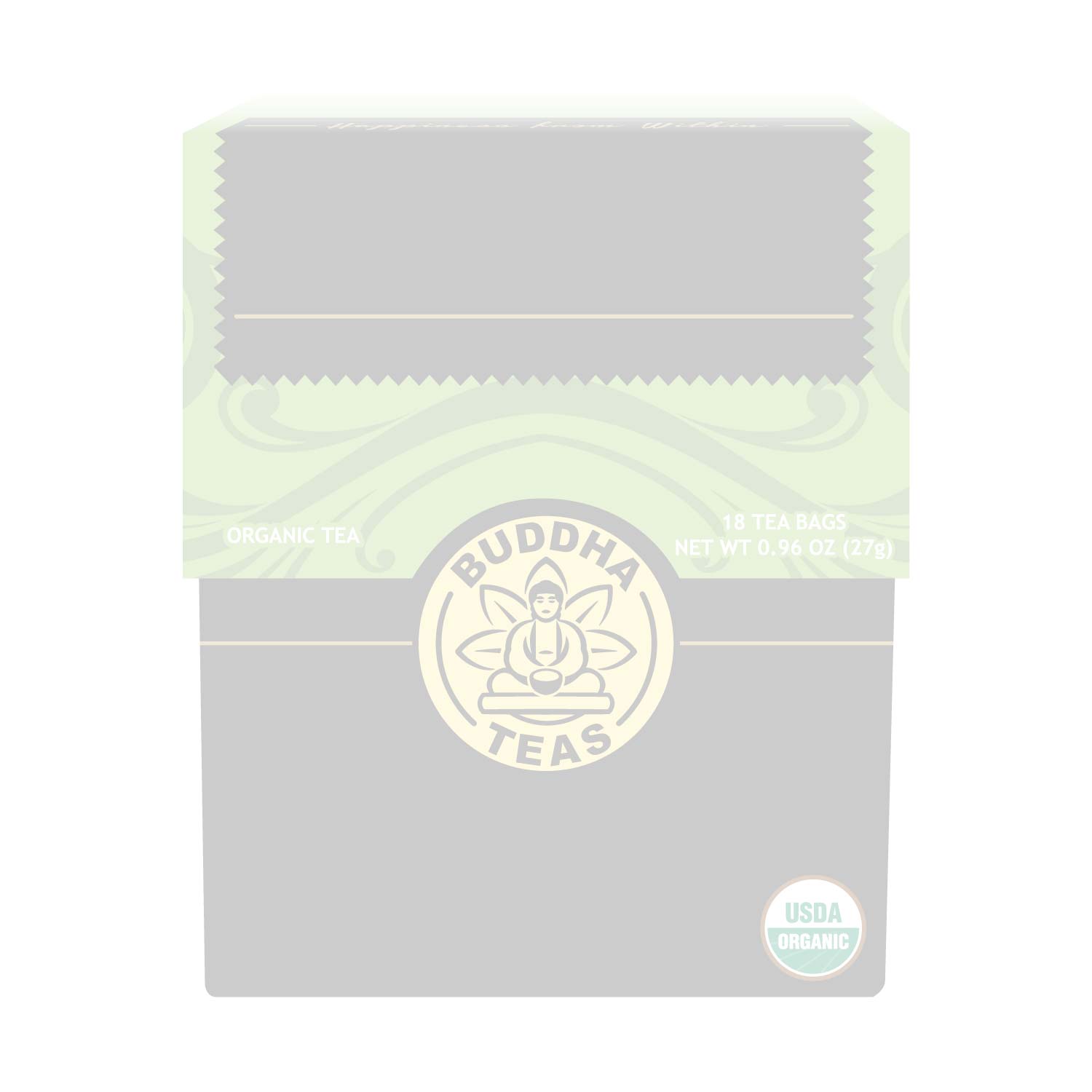 Brewing Suggestions
Recommended temperature: 175° - 180°
Cover and steep to taste.
Remove tea bag and enjoy!
Free Shipping on orders over $50.
*On orders placed in the United States. Learn More
Satisfaction Guaranteed
100% Money Back and Satisfaction Guarantee. NO questions asked!
In the Know
Discover the light, refreshing taste of green tea combined with the zesty citrus taste of lemongrass in this exceptional blend. Buddha Teas Organic Lemongrass & Green Tea is made with premium sencha leaves, offering a fusion of refreshing tastes sure to stimulate your senses. With light caffeine levels, it provides an invigorating boost that can be enjoyed hot or cold.
A Potent Pair
The combination of lemongrass and green tea not only makes for an engaging and flavorful experience. It also offers the combined nutrients of both remarkable plants. Lemongrass Green Tea is a natural source of vitamin A, vitamin C, and five unique B vitamins. Its mineral content also includes magnesium, calcium, copper and manganese, and several more. This tea offers a wealth of natural constituents, and, of course, is also a natural source of antioxidants.
Prep & Taste
Steep 3-5 minutes the color develops into a rich golden hue. The aroma is best described as a grassy citrus.
This medium bodied tea is a vibrant composition of Lemongrass and Sencha leaves. The opening notes burst with a fusion of lemon zest, followed by and an element of light woods. The middle notes have a slightly peppery warmth. A velvety finish brings this exciting and aromatic blend to a close with a delicate herbal aftertaste.
Buy Lemongrass & Green Tea
With all the benefits that this blend has to offer, it has become one of our most highly recommended herbal teas. Whether you're looking to purchase teas for yourself or for a lover of teas, the unity of these two exceptional teas is sure to become a favorite. To experience the best effects of this tea, it is good to get into the habit of drinking it regularly. For this reason, we are proud to offer deals to those who make bulk purchases. We also offer coupon codes whenever possible and even FREE shipping to all eligible offers of $50 or more. If you haven't yet tried lemongrass with green tea, it's a great time to start! Order now and we promise you won't be disappointed with our products.
Why choose Buddha Teas?
What sets us apart from other tea companies? We start with a philosophy of living in harmony with nature, not using it for profit. Buddha Teas uses only fresh, pure organic or sustainably wild harvested ingredients and maintains their natural purity in every tea we sell. We have also created the "Teas for Trees" campaign, planting 5000 trees a year to offset the paper use in our tea bags. Each of our tea bags is bleach-free to eliminate the risk of chemicals, and our boxes are made from 100% recycled material. When you buy Buddha Teas, you'll enjoy the fresh, full flavor of a truly natural tea in every sip.
Learn About Our "Tea For Trees" Campaign
Our "Tea for Trees" campaign creates a sustainable model that restores one of our most precious resources while offsetting the paper used in our products. We've partnered with The National Forest Foundation's Trees for Us, a program that annually plants millions of trees throughout our national forests.
By giving back whenever possible, Buddha Teas strives to honor the earth and its many blessings. Help us plant trees while enjoying an unadulterated tea that's healthy for you, and our planet. Read more about it here.
Review Title:

Soothing and delicate

Review by

Carrie

on November 5, 2019
Love this tea first thing in the morning with a little bit of raw honey. I love that it's good for me too.
Review Title:

Delicious

Review by

Martha

on January 18, 2019
The best green tea. We are drinking it every day.
Review Title:

Lemongrass green tea!

Review by

Willow

on December 13, 2018
I start my day with Lemongrass Green Tea and what a great cup of tea it is!.
Review Title:

Amazing

Review by

Ann

on November 16, 2018
My husband only would drink coffee. I got him to try this lemongrass tea and now he is hooked. I bought 6 boxes this time so I don't run out.
Review Title:

Delicious

Review by

Konnie

on April 15, 2018
First time I tried lemongrass green tea and the flavor was so crisp and refreshing. I enjoyed it as ice tea. This is definitely going to be a repeat order!
Review Title:

Refreshing Lemongrass & Green Tea

Review by

Sharron

on February 12, 2018
This is the best tea i have ever tasted. I enjoy it so much I drink it first thing in the morning, and can't wait to get home from work to have a cup. Some days I may even drink it in the evening just to be drinking it. I will be trying other teas but so far this one is the best.
Review Title:

Nice Light Tea

Review by

Sharon

on January 1, 2018
I find this tea to be refreshing. Many of the green teas have a fishy smell or taste - not this one!
Review Title:

How I start my day!

Review by

Nancy

on January 30, 2017
Fresh, smooth and no bad after taste.
Love it!!
Review Title:

Great Stuff

Review by

Larry

on December 12, 2016
My wife loves the lemongrasss tea. Since it is no longer available from Good Earth, we will be getting it from Buddah from now on.
Review Title:

Nice Tea

Review by

Michael

on June 10, 2016
Smooth and refreshing.